With the permission from and help of a grown up, you could carry out a scientific experiment at home. This website has some fun ideas on it:
http://www.sciencefun.org/kidszone/experiments/
Conduct some research about a famous scientist and present your findings in any way that you like. You could create a leaflet, poster, Powerpoint Presentation or video clip.
R.E
Topic project ideas:
Create an Easter bonnet and host your very own Easter bonnet parade for you and your family.

With your parents' permission, could you do some Easter baking? Follow this link to find some brilliant recipes: https://www.bbcgoodfood.com/howto/guide/fun-easter-projects-kids

Lots of children across the country have been designing and making rainbows to put up in their windows at home. These rainbows are a sign of hope and will hopefully make lots of people smile!

Make some Easter cards for members of your family.
P.E
Daily P.E lessons are being posted on Joe Wicks' Youtube channel everyday at 9:00AM. These are each 30 minutes long. To join in the fun, follow this link:

https://www.youtube.com/user/thebodycoach1

Could you help out with some gardening? Gardening can be very physical and it is therefore, a great form of exercise.
Well done to all of Elm for making so much effort with your home learning. Each week, I am going to share three pieces of work on this page.
Paighton created a lovely Easter story booklet.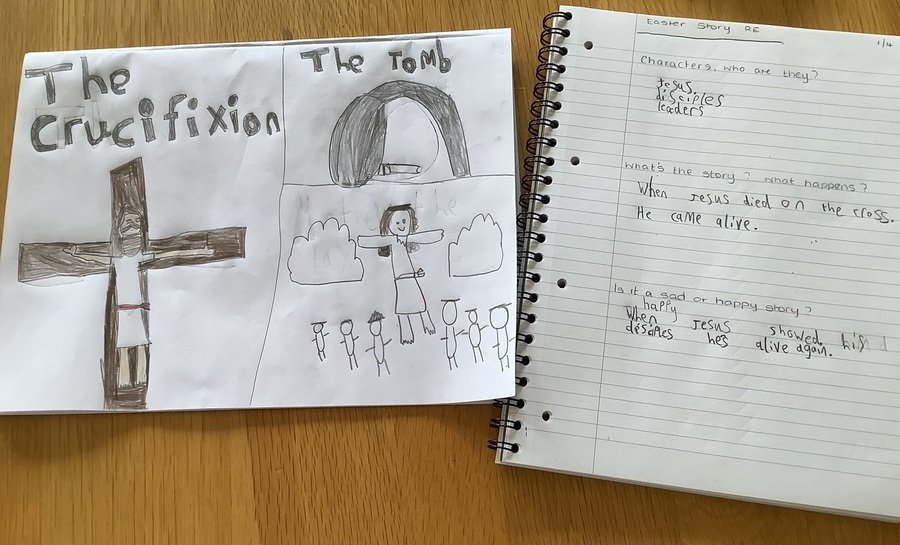 Elsie conducted a scientific experiment:
Lucas wrote a lovely letter for his friend: